A holistic program for workers and companies
WorkersJoint is a holistic program designed to support marginalized, migrant, unemployed, home-based workers, women workers, and micro-producers to attain greater upward social and economic mobility, thereby creating an ethical ecosystem for responsible hiring.
WorkersJoint Program builds the database of informal workers and connects them with Businesses through a tech platform.
The digital platform of WorkersJoint makes the workers visible in the job market. It helps them connect with businesses that offer them better work opportunities and environments. The program continues working with the workers registered on the digital platform and their employers to ensure all workers are connected with social security and their children attend school.
Partnering with International Organization for Migration (UN-IOM)
WorkersJoint program has joined with the International Organization for Migration (IOM). It is part of the United Nations System as the leading inter-governmental organization promoting migration for the benefit of all, with 174 member states and a presence in over 100 countries. In India, IOM is not only focused on international migrant workers but is also looking into the vast quantum of inter-state migrant workers to help protect their interests.
Electronic Migration Resource Centre (e-MRC): eMRC has a collection of information that a migrant worker might be looking for. It includes emergency helpline numbers, information about the city, industry information, labor laws, and human rights. Currently, all data pertains to Jaipur city. As the wings of WorkersJoint spread to other cities, this e-MRC will be updated with information regarding other locations.
HelpLine: Another critical feature of WorkersJoint is the live Helpline number 097111 45938, which any worker can call for information. Helpline provides relevant information support to workers, mainly migrant workers.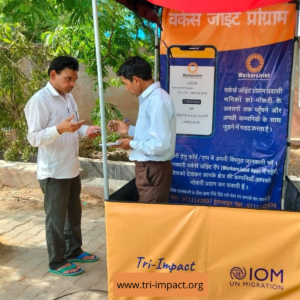 "यह प्रयास मुझे बहुत अच्छा लगा की जहाँ आज कोई काम ढूँढने में इतनी कठिनाई हो रही है, वहां यह संस्था हमे वर्कर्स जॉइंट के माध्यम से काम दिलवाने में सहायता कर रही है। मैं अपने परिवार के लिए काम करना चाहती हूँ।" – लक्ष्मी कुमारी, जयपुर
"शहर से बाहर वालों को काम मिलना एक कठिन काम है। इसलिये वर्कर्स जॉइंट कार्यकर्म मुझे अच्छा लगा की इसके माध्यम से मुझे भी रोजगार मिल पायेगा। मैं अपने परिवार की सहायता कर पाऊँगी और आगे बढ़ पाऊँगी।"- कविता प्रजापत, सवाई माधोपुर
"The idea of creating digital platform for migrant workers and businesses will be extremely helpful in formalising recruitment and enhancing transparency for both, as workers get exploited by mediators, whereas businesses do not have any proper mechanism for formalising the recruitment process."- Ms. Vaishali Agarwal, Owner, Rang Creation, Jaipur
"WorkersJoint Program is an unique initiative and it's the requirement of today's scenario."- Ms. Kartika Agarwal, Owner, Brecht, Jaipur
"There is an urgent requirement of operational guidance related to recruitment of migrant workers in the garment industries specially after the COVID-19 pandemic. Vastrashi, Jaipur"- Ms. Priyanka Fredrick, Owner, VASTRASHI, Jaipur
"Recruitment practice of migrant workers should be free from biases. The process should be easy and less time taking. Goodwill Impex Ltd., Jaipur"-Goodwill Impex Ltd., Jaipur
"This pandemic has shown many faces of unorganized sector. There are a huge number of Interstate migrant workers in the garment industries. Investing in employees by offering trainings and up-skilling should be very effective. – A.B Exports, Jaipur