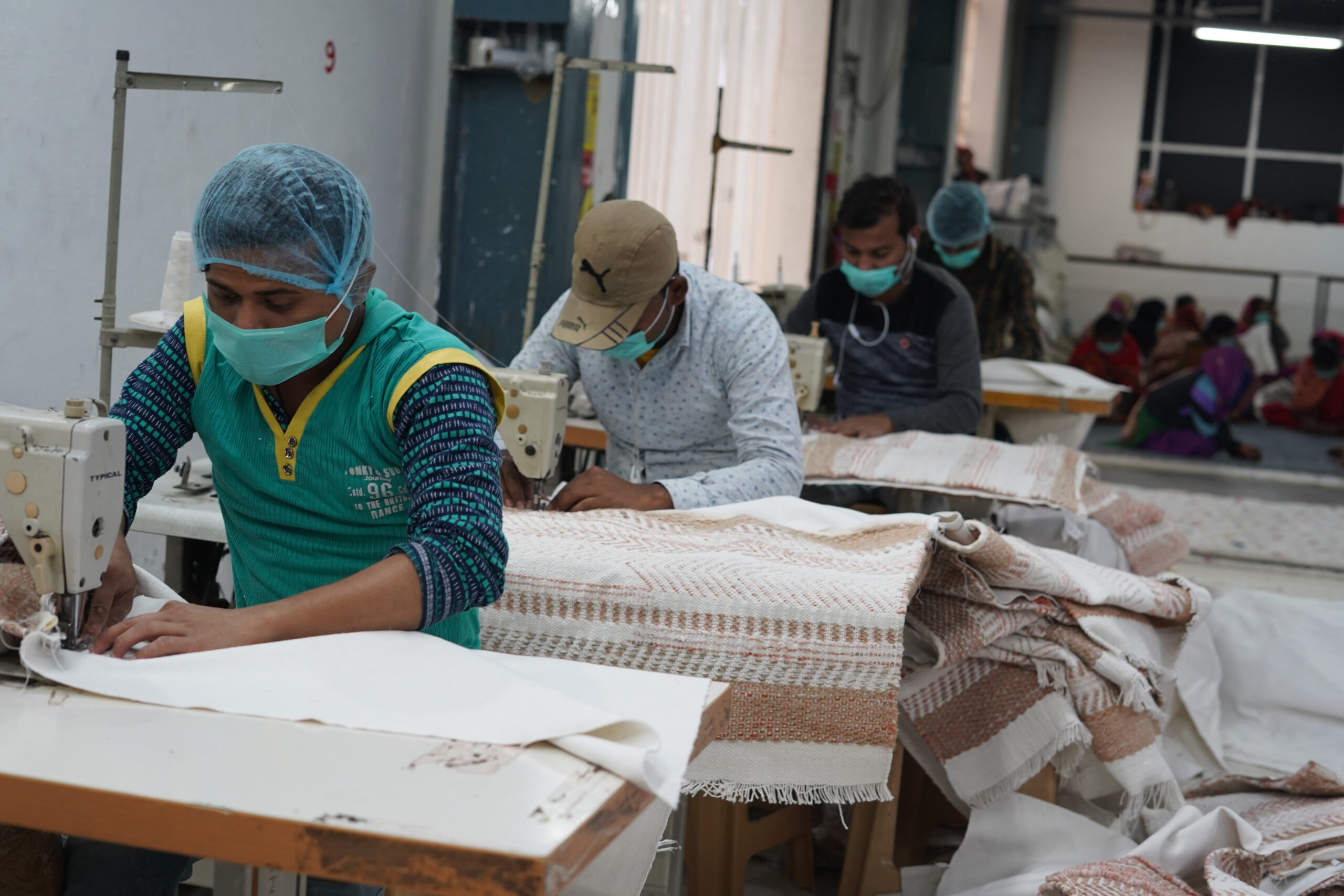 Roshni is a capacity building program designed for Global Value Chains in India based on Participatory Learning and Action methodologies. It is designed to support businesses in improving working conditions for workers, environmental action, and sustainable business growth.
Businesses want to focus on the needs of their buyers in terms of products, production processes, and social and environmental compliances. At the same time, it is mandatory to follow government regulations.
Roshni supports businesses in mapping and engaging their entire production universe in fulfilling social and environmental responsibilities through systematic local and global collaborative action.
Roshni builds the capacity of businesses to map their entire production universe, conduct gap analysis, and develop ways to improve through implementing an action plan. Roshni encourages measuring the impact and sharing experiences with other stakeholders to encourage replication and scale.
Tri-Impact has evolved Roshni's methodology through rigorous testing with several value chains.
Step 1: Mapping all your suppliers to Know your Production Universe.
Step 2: Buyers expect manufacturers to manufacture responsibly. Grow your business by knowing the expectations of your potential buyer. Roshni helps businesses understand these expectations.
Step 3: Evaluate your production universe for the above expectations through self-assessments. Again, this is required to be done for entire supply chain.
Step 4: For any non-compliances, set your goals and identify appropriate ways to achieve them. Roshni works with companies to guide how to achieve those goals through collaborations, providing policies and tool kits.
Step 5: Achieve goals by acting throughout your production universe.
Step 6: Improvement is a continuous process. Analyse the extent of improvement and measure success.
Step 7: The success, learning and progress needs to be shared with stakeholders such as businesses, government departments, buyers, schools, hospitals, community leaders etc to motivate them and promote scale.
The seven steps are repeated to build learning, collaborations, success, and behavioral change in the entire value chain to improve working conditions for workers and environmental action in Global Value Chains.
Presently, 25 companies and their supply chains consisting of more than 200 manufacturing units participate in the Roshni program to achieve a more significant impact.
Supporting children in worker communities and urban labor colonies
The program involves working with vulnerable children, such as those not enrolled, not learning, or school dropouts, in artisan communities. Through active engagement with government and private schools in the area, local authorities, Madrasas, community members, we overcome any limitation related to community access and education for these children.
Limiting child labor through the preventive approach implies that businesses can confidently outsource work to small production units and artisan communities where education is guaranteed and the risk of child labor is negligible.
In 55 Communities of Haryana, Rajasthan and Uttar Pradesh, we supported 47,908 Children. We are also working with worker communities to identify more children and link them with educational services.
Supporting children in the supply chains
We are dedicated to keeping children away from exploitative production activities that become detrimental to children's rights. Children of workers in production supply chains, especially those identified as at-risk of child labor, are effectively supported, enrolled in schools and receive educational, emotional and social rehabilitation.
We work with diverse stakeholders, including employers, family members, schools, government agencies, to ensure that all children continue their education and are protected.
We previously worked with around 90,000 informal workers including artisans and 41,000 children in the supply chains, industrial areas, and home-based worker communities. The geographical regions include Uttar Pradesh, Haryana, Rajasthan, West Bengal and Kerala. We have been reaching out to all these workers and their families to provide immediate support as and wherever needed, and is also working with them to help build resilience in the post – COVID ecosystem through focused initiatives.
We have reached out to 28,413 families of workers communities including migrant workers directly through phone calls and took cognizance of their immediate problems and need. The information gathered is used in assessing and addressing the most critical needs on a priority basis.
We utilized government approved IEC materials in form of text, audio and video to create awareness in the communities about Covid-19. So far, 114,759 community members have been sensitized from various districts of  UP, Haryana and Rajasthan.
Ration kits were provided to worker communities and migrant workers to avoid food crisis during lockdown and wage loss. So far 17,389 ration kits have been distributed in various districts of UP, Haryana and Rajasthan benefiting 69,557 family members.
Hygiene Aids (Face Masks and Hand Gloves) are also being distributed in worker communities. So far, 89,240 masks have been distributed across our intervention locations.
Children in 55 vulnerable worker communities spread across Varanasi, Panipat, Jaipur and Greater Noida are receiving virtual educational support during this ongoing pandemic.  So far, 13,340 children have been linked with virtual educational services using WhatsApp.
We have organized training of community members on financial literacy and so far 5,679 beneficiaries have been trained and 90 percent of them were women. Financial Literacy helps women access banks, receive financial assistance and make small savings.
We supported communities to open Jan-Dhan bank accounts and so far 1,020 new accounts have been opened. Out of the total 75 percent beneficiaries were women. We also worked to activate the dormant accounts and linked them with Aadhaar numbers, so that the beneficiaries can receive government assistance.